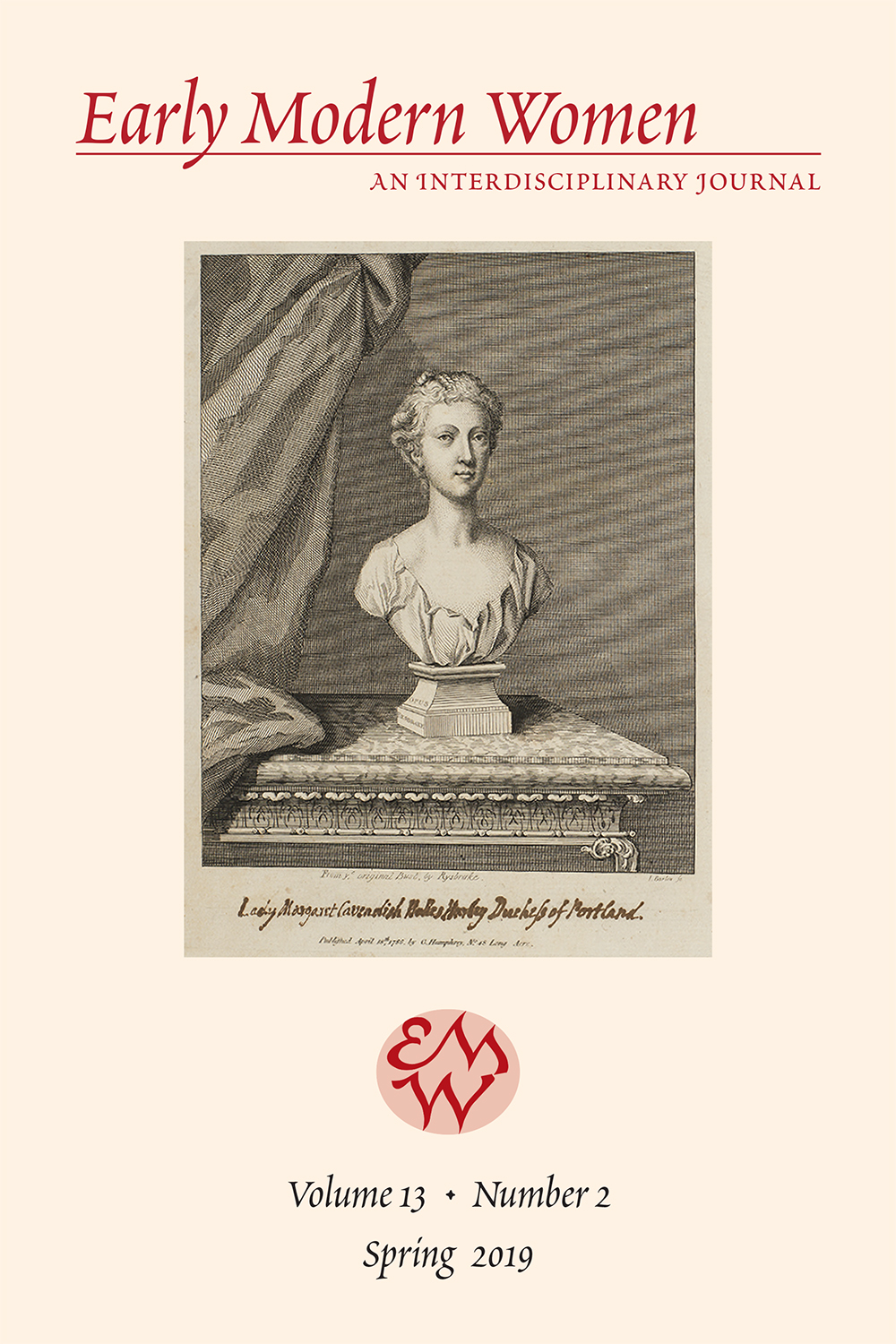 Early Modern Women: An Interdisciplinary Journal
Volume 13 - Number 2 - Spring 2019
Edited by Bernadette Andrea, Julie D. Campbell and Allyson M. Poska.
Essays

Selling the Duchess: Narratives of Celebrity in A Catalogue of the Portland Museum (1786)
—Madeleine Pelling
The Special Value of Precarious Patrons: Lucrezia Agliardi and the Tradition of Italian Laywomen Church Builders
—Catherine King
Women in the Garden: The Decameron Reimagined in the Moderata Fonte's Il merito delle donna
—Katherine McKenna
Recognition of the Winner of the Best Article Prize for Volume 12 (2017-18)
Jessica Goethals
Assistant Professor of Italian
University of Alabama
"The Bizarre Muse: The Literary Persona of Margherita Costa," EMWJ 12.1, fall 2017
In "The Bizarre Muse: The Literary Persona of Margherita Costa," Jessica Goethals discusses the fascinating Margherita Costa, a seventeenth-century Italian author and opera singer, who cultivated a network of powerful patrons across Europe including the Barberini in Rome, the Medici in Florence, and Cardinal Mazarin in Paris. As a performer, Costa existed at the margins of society and of her gender. As a writer, she experimented in a wide range of genres and registers, publishing an impressive fourteen volumes. In Goethals' characterization, Costa engaged with the marginalized, anti-Petrarchan tradition to circumvent gender prescriptions, turning upside down the traditional strategies of self-legitimation of some women writers. Costa embraced instead a rhetorical ventriloquism of parody and burlesque.
Goethals's essay is to be praised for the breadth of its vision in illuminating a particular moment in Italian women's history to look at the concept and performance (literary, theatrical, and socio-cultural) of bizzarria, a term associated in early modernity with capriciousness. It is also remarkable for its usage of some newly uncovered manuscript sources and for bringing to life an intriguing case of self-actualization by a multi-talented and audacious early modern female author and artist.
And, as always, a wide selection of Book and Multimedia Reviews
Stay tuned for the fall 2019 issue, with a new forum on Early Modern Women's Mobilities!